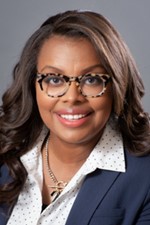 Alberthe Bernier
Attorney and Counselor at Law
Alberthe Bernier joined the Ettinger Law Firm in 2021 and focuses her practice in the areas of Estate Planning and Elder Law, Long-term care planning, and Trust and Estate Administration.
As an Elder Law attorney, Alberthe has a wealth of experience assisting seniors with a variety of legal issues, such as navigating the Medicaid and asset protection planning process. This includes assistance with counseling clients on Medicaid approved asset transfers, establishing and maintaining eligibility for Medicaid, navigating the nursing home and/or assisted living facility admissions process, and obtaining homecare services for the elderly. Alberthe also negotiates settlements with New York's social services districts to reduce and/or eliminate Medicaid spousal or estate claims.
As an estate planning and administration attorney, Alberthe assists clients with the preparation of Wills, Advance Directives and various Asset Protection Trusts. Alberthe also prepares petitions for Probate and/or Estate Administration to help fiduciaries obtain court authority to manage a decedent's estate. Lastly, Alberthe counsels executors, administrators, trustees, and guardians on the entire process of administering their ward's estates.
Prior to joining Ettinger Law Firm, Alberthe represented clients in contested and uncontested guardianship proceedings under Article 81 of the NYS Mental Hygiene law and Article 17 and 17A of the NYS Surrogate's Court Procedure Act. Alberthe also has experience assisting guardians and estate fiduciaries in navigating the vast and multifarious rules and procedures they are bound by when administering an estate. Such guidance ensures that assets are protected and that the guardian or estate fiduciary is protected from liability.
Alberthe received her J.D. degree from St. John's University School of Law in 2008 and earned her B.S. degree, summa cum laude, in Criminal Justice from St. John's University in 2004. Alberthe is admitted to practice in New York. She lives in Stamford, Connecticut with her husband and two children.
Education
J.D., St. John's University, 2008
B.S., St. John's Unversity, 2004
Summa Cum Laude
Jurisdictions Admitted to Practice
New York, 2009
Professional & Bar Association Memberships
New York Bar Association
Member Since: 2009
Member of the Trusts & Estate section and the Elder Law and Special Needs Section