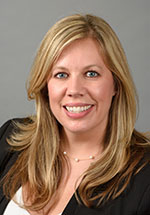 Amanda Balboni
Legal Assistant
After earning a B.S. in Chemical Engineering from the University of Rhode Island, Amanda began working at GE Energy in Schenectady, New York as a Lead Gas-Turbine Controls Design Engineer specializing in wiring documentation accuracy and standardization. As a certified Black Belt in Six Sigma, which is a disciplined, data-driven approach and methodology for eliminating defects in any process, Amanda gained invaluable experience and expertise in business management with an emphasis on customer-centric thinking.
Amanda gladly joined the Ettinger Law Firm in September of 2015 to leverage her process and technical background while pursuing her passion for helping people to feel valued and secure in their important life decisions.
Amanda lives in Saratoga County, New York with her husband, Rick, and their three children, Justin, Matthew and Ashlyn.