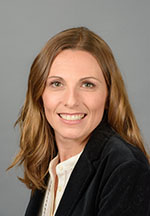 Jessica Kiely
Attorney and Counselor at Law
jkiely@trustlaw.com
Download VCard
800-500-2525 Ext: 118

99 Main St 1st Floor
Nyack, New York 10960
140 Grand St #410
White Plains, New York 10601
200 Westage Business Center Dr #235
Fishkill, New York 12524
Attorney Jessica Kiely's exposure to the hardships that the elder population faces shaped her career in estate planning and elder law. While working her way through college at a restaurant which catered to a large senior clientele, Kiely became interested in issues involving elder care. Becoming friendly with many of the restaurant regulars, "I would hear repeated stories of older clients losing their spouse or having to place them in a nursing facility and the exorbitant costs of such facilities. I had customers who were taken advantage of by scams targeted at the elderly, suffered from poor advice, or were simply unprepared for the unexpected challenges of aging. It made me realize that this was a population that was uninformed and underrepresented. It was this exposure to these issues which proved to be my foundation for pursuing a career in elder law."
Before beginning her work at Ettinger Law Firm, Jessica received her Juris Doctor from CUNY School of Law at Queens College, a school which is dedicated to the service of human needs. She chose to attend CUNY because of the reputation of its elder law clinic where she gained valuable experience working with clients firsthand. Attorney Kiely says, "The clinic did a lot of work for people who had not been involved in the estate planning process. Through working on guardianship proceedings and probate cases I experienced firsthand what happens when one does not plan for death or disability."Attorney Kiely's goal while working with clients is to make sure that they have a plan for death assuring their assets go to who they want, the way they want, subject to the least amount of taxes and legal fees possible. She also makes sure her clients have a proper plan for disability to ensure that the persons they want to handle their affairs have the proper tools and plan in place to protect their assets from being depleted by the expense of long-term care.
Jessica and her husband, Tyler, and young son, Graham, reside in Nyack.
"While our estate plan is just starting, our experience to date has been most satisfactory. Ms. Keily as well as Mr. Ettinger have been both helpful and interested in our estate plans and they have been most helpful in assisting us in setting them up.
We are looking forward to the day they are complete and we are able to finally relax knowing our plans have been completed and they rest in the hands of these experienced elder law attorneys."
-- P.F.
Education
Juris Doctor (J.D.), CUNY School of Law, 2006
Bachelor of Arts (B.A.), SUNY Oswego, 2002
Jurisdictions Admitted to Practice New Jersey, 2006
New York, 2007

Professional & Bar Association Memberships
American Bar Association
Member Since: 2007
New York State Bar Association
Member Since: 2007