Financial Advisors
Ettinger Law Firm has established programs to help Financial Advisors get involved in estate planning, such as having the law firm sponsor a Client Appreciation Dinner for your clients and their guests. Michael Ettinger attends in a "Meet the Author" format as Guest Speaker on Elder Law Estate Planning. Mr. Ettinger has hosted 2,500+ seminars with Financial Advisors in the last twenty years.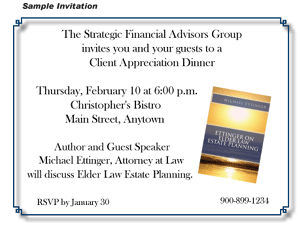 Benefits for Financial Advisors include:
Value added service at no cost
Enhances your professionalism
Increases client loyalty
Helps consolidate their assets with you
Poises you for planning for the next generation
Adds to your professional satisfaction
Please contact Pattie Brown, Communications Director to discuss scheduling your event at 800-500-2525 ext. 117 or by email at pbrown@trustlaw.com.
We look forward to working with you.