Michelle Berman
Attorney and Counselor at Law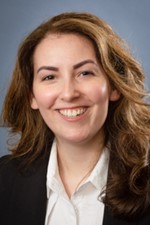 Michelle Berman joined Ettinger Law Firm in 2021 and focuses her practice in elder law, long-term care planning, estate planning, and estate administration.
As an elder law and long-term care planning attorney, Michelle has extensive experience navigating the Medicaid application process, including asset protection planning. This includes helping clients to understand the Medicaid eligibility requirements, assisting clients with approved asset transfers to become eligible for Medicaid, assisting with the Medicaid application process for both, homecare and nursing home Medicaid, helping to create pooled trusts, and establishing homecare services once approval has been obtained from NYS.
As an estate planning and administration attorney, Michelle assists clients with the preparation of advance directives, wills, and asset protection trusts. Michelle also helps prepare petitions for probate and administration while also guiding administrators and petitioners through the estate process. Michelle has also served as a guardian ad litem and guardians for the person and property as appointed by NYS court system.
Michelle was admitted to practice law in New York in 2016. She graduated from Albany Law School in 2015 and The College of Saint Rose in 2013; Michelle was part of an exclusive "accelerated program" that allowed her to complete her Bachelors of Science in Criminal Justice and Juris Doctor in six years. During the Spring of 2011, Michelle also studied abroad at Regents College London.
Before finding her passion for elder law, Michelle had worked in medical malpractice and insurance defense, in the office of a New York State Senator, clerked for a judge in Albany City Court, and was an intern for the Westchester County District Attorney's office in their Special Prosecution Division.
Michelle is a lifelong resident of Westchester County, where she currently lives with her yellow lab, Maggie.
Education
JD, Albany Law School, 2015
BS, College of Saint Rose, 2013
Jurisdictions Admitted to Practice
New York State, 2016
Professional & Bar Association Memberships
NYSBA
Member Since: 2015
Westchester Women's Bar Association
Member Since: 2021