by Bonnie Kraham, Esq.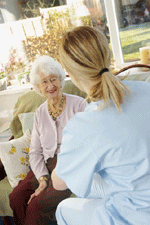 Most of us don't want to end our days in a nursing home, and would rather "age in place," so it's important to become familiar with available home health care services.
There are three major ways to pay for home health care: self-pay, long-term care insurance, or Medicaid, which is government provided health insurance for those whose assets have been depleted. Medicare, which is government provided health insurance for the elderly, only has limited community home health care. A New York elder law attorney can help to decide which one is the best option.
In general, "community" Medicaid programs, for home care, do not have a "look-back period," that is, Medicaid does not "look back" to see if any transfers (gifts) were made which would make the person ineligible for a certain period of time. Therefore, assets can usually be transferred before applying for community Medicaid without penalty, unlike the rules for "nursing home" Medicaid.
If you meet the asset and income rules, following is a list of some of the home health care services covered by Medicaid:
Personal Care Aide Program. Agencies, paid by Medicaid, employ aides who give custodial level services based on the Activities of Daily Living (ADL's) – feeding, toileting, grooming, bathing, ambulating and transferring. A patient must need help with at least two ADL's.
Consumer-Directed Program. The services are the same as above but the patient, or adult family member, selects the aides, rather than going through an agency. The home attendant cannot be an immediate family member.
Certified Home Health Aide Services. This program usually covers the cost for 45 days after hospitalization. The aide performs health care under the supervision of a registered nurse or licensed therapist. The covered activities include the ADL's and possibly skilled services such as special meals, and tube feedings if the patient is self-directing.
Lombardi Program. Also referred to as the "nursing home without walls," this is the long-term home health care program, the equivalent of a nursing home level of care. The cost for the care cannot exceed 75% of nursing home costs. Availability is limited. The Lombardi program and other similar programs have a five-year look-back period for any asset transfers which would create a "penalty period," or period of ineligibility for Medicaid.
To find other home health care services, contact your county's Office for the Aging for a list of local providers. Orange County (845-615-3700) or Sullivan County (845-807-0241) and Ulster County (845-340-3456)