Young Family Estate Planning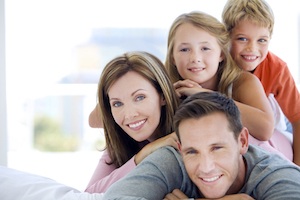 It is not unusual for parents of young children to overlook the need for a Will, Power of Attorney and Health Care Proxy/Living Will – what we term a "Young Family Estate Plan" (YFEP). Many feel they don't have enough assets yet or that everything will automatically go to their spouse and then he or she will take care of things.
One of the main reasons for young families to plan is to insure that should something happen to the parents, their children will continue to thrive and reach their full potential.
Here are problems that may occur for young parents who fail to have a YFEP:
(1) If both parents die in a common disaster, then the courts will decide on the legal guardian for your children without consideration of who you would have wanted.

(2) If any assets were in husband's or wife's name alone, and failed to name spouse as beneficiary, then a court proceeding will be required to name an "administrator" of your estate and New York law decides who gets which assets. If you have a spouse and children, the first $50,000 goes to your spouse and rest is divided 50% to your spouse and 50% to your children. However, if your children are under age eighteen they are minors and may not represent themselves in court. In that case, the court will appoint a second lawyer to represent the interests of your children, at your expense.

(3) Assets that go to your children as a result of what happened in (2) above, or if the parents die together in a common disaster, must be distributed to the children at age eighteen, since they are then legally considered "adults". Until that time, the court decides who will be in charge of your assets, and how the money will be used for your children.

(4) A YFEP involves not just a Will, but also Power of Attorney and Health Care Proxy/Living Will. Should your spouse have an accident or illness rendering them incapacitated, you will be unable to handle their legal and financial affairs (such as selling or refinancing the house or drawing funds from their accounts) or to make health care decisions for them, including terminating life support should the need arise. Without these basic documents, the spouse would be forced to petition the courts to be appointed as legal guardian – an expensive and time-consuming legal process putting the courts, instead of you, in charge. There is the added risk that the court may decide against you as legal guardian and appoint someone else, or that another family member may challenge you as guardian and seek the guardianship themselves.
With a YFEP you will be able to:
A. Insure that all of your spouse's assets go to you and not half to your children if your spouse dies unexpectedly.

B. Choose who you want as legal guardian for your children as well as who will be in charge of your assets, how your money will be used for your children and at what age they will receive your assets. We usually recommend putting a trusted relative or friend in charge until they are age thirty.

C. Avoid guardianship proceedings should your spouse have a disabling accident or illness and have the legal documents you need to handle your spouse's legal, financial and medical affairs.

Finally, a YFEP includes life and disability insurance reviews and recommendations so in the event your spouse dies or becomes disabled you will have the financial resources to continue to raise your children. Most young families are woefully unprepared financially should disaster strike. We make sure that your or your lost spouse's economic value is replaced so that you can go forward confidently into the future.
A YFEP also addresses the complications involved with "special needs" children, single and divorced parents, and second marriages with blended families.
Now in our 26th year exclusively practicing estate planning and elder law, Ettinger Law Firm offers you a free initial consultation to discuss your YFEP at any one of our fifteen offices throughout New York State.
Please call Pattie Brown, Firm Manager, at 800-500-2525, ext. 117 to arrange your free initial consultation.