Upcoming Seminars
You are cordially invited to attend one of Ettinger Law Firm's elder law estate planning seminars, "7 Reasons Why Trusts are Preferred over Wills". This event is by reservation only, so please click on the links below to register to attend a free Ettinger dinner seminar at a restaurant near you.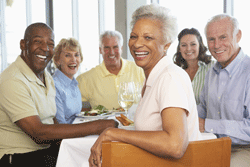 "The information presented at the dinner convinced us to make an appointment. Our first meeting with Mr. Ettinger was very informative and we knew from the presentation that we should do the trust. Our second meeting with Mr. Ettinger and Patricia Brown finalized the trust." -- A. & P. White
At our seminars our attorneys explain why, since 1991, when AARP advised members to use trusts instead of wills, millions have switched. Here's why.
Unfortunately, about half of us will eventually become disabled. Wills don't provide for disability. Living trusts help avoid guardianship.
Wills go through "probate court proceedings" to settle. Trusts avoid the expense and delay of court proceedings on death.
Wills don't protect assets from nursing home costs. Trusts can provide powerful asset protection for your home and life savings.
Wills expose your assets and heirs to public scrutiny. Trusts are private – others won't know what you had or who you left it to.
Trusts can protect inheritances from children's divorces and keep assets in the bloodline for your grandchildren.
Trusts avoid the additional probates required for your out-of-state property.
Trusts can protect your assets if your spouse remarries after your death.
Also discussed is how, as an elder law estate planning firm, we can also help you protect assets even if a loved one needs nursing home care now or in the near future.